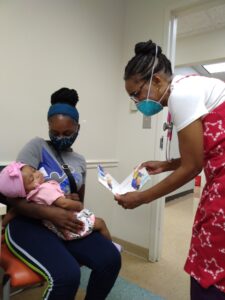 Learn4Life's literacy network is working to scale strategies that raise 3rd grade reading proficiency in our region. We are proud to partner with Reach Out and Read Georgia as a bright spot in early childhood education, and support their work.
"Like 32,000 pediatricians and medical providers across the country, I have seen the benefits of the Reach Out and Read program firsthand through my practice. All parents want their children to succeed and do well in school and to do better than they themselves have done. Sometimes, they don't have the skills to make that happen for their kids. Reach Out and Read is the first step for families to take control of their future." – Dr. Terri McFadden, Professor of Pediatrics at Emory School of Medicine, Pediatrician at Children's Healthcare of Atlanta at Hughes Spalding and National Reach Out and Read Board Member
Reach Out and Read Georgia (ROR) hears these stories from our partner medical providers time and time again. ROR gives young children a foundation for success by incorporating books into pediatric care and encouraging families to read aloud together. Our objective is to improve emergent literacy and social-emotional health during the span of rapid brain growth and development between birth and age five, particularly in economically disadvantaged families who are at risk for adverse outcomes. Research demonstrates that children from low-income families are at especially high risk for reading failure. By the time they enter kindergarten, the cognitive and early literacy readiness skills of children living in poverty lag far behind those of their peers (Child Trends 2015). This gap will now only widen due to school closures and loss of learning time amid the COVID-19 Pandemic. Because our program is delivered through the existing medical infrastructure, we reach children who may not otherwise have contact with early education opportunities.
We serve more than 154,000 children and families across the highest need communities in Georgia, including nearly 59,000 in the Metro Atlanta area. 75% of the families we serve in Metro Atlanta are uninsured or rely on public insurance (primarily Medicaid). Our pediatric medical providers encourage parents to read aloud regularly with their children and provide parents with the knowledge and tools they need to nurture early learning and provide the best start for their children. Because the book has been prescribed almost like a medication, parents are far more likely to make reading aloud a part of their daily routine. As a result, children build literacy and oral language skills earlier and become better prepared for school – as they learn the joy of reading.
"I recently walked into an exam room with a book for a 15 month well visit checkup. I handed the baby a  book. This was the first time I was meeting Dad, and Mom said, "just like I told you, she always gives a book right away" with a big smile on her face. The baby reached for the book." – Dr. Sumner, Grady pediatrician
The American Academy Pediatrics has repeatedly identified Reach Out and Read as an evidence-supported, practice-based intervention that should be part of a foundation for pediatric universal primary prevention strategies. We are now doubling down on scaling our program to reach every child across Metro Atlanta. We are working with community leaders and legislators to advocate to continue replicating our program and ensure that it will one day be available for all pediatric providers in the state.
Amy Erickson is the Executive Director for Reach Out and Read Georgia. The Learn4Life 3rd grade reading proficiency network recognizes the importance of building literacy skills long before students reach school. If you would like to help scale this incredible work, you can join the 3rd grade reading network here.