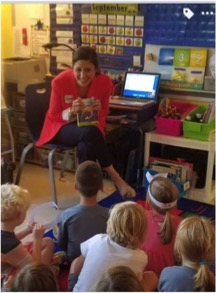 Years of experience advocating for quality early learning in Georgia has revealed the incredible work being done, by so many, to emphasize the importance of a quality early childhood education to successful lifetime outcomes. As a mother of a 5-year old child, and as Executive Director of Voices for Georgia's Children, a nonprofit working to advance laws, policies, and actions that improve children's lives, both my personal and professional lives are directly affected by our continued prioritization and support of essential programs such as Georgia Pre-K.
Each year, I look forward to early October, which signifies a week long celebration of early learning called "Georgia Pre-K Week." Georgia Pre-K Week is in essence one big pep rally for Georgia Pre-K. Centers across the state host their legislators and local community leaders to read to children and see firsthand the benefits of quality early learning. There is no other opportunity like it where Georgia's policy makers and leaders experience, at this scale, the value of early education and the importance of continued investment in it.
It is one thing to spend my days in meetings discussing policy solutions which benefit children, but it is a completely different thing to spend time visiting with children and teachers in centers, witnessing firsthand the benefits of these solutions — learning programs that promote students' physical, behavioral, and cognitive development. I get to experience quality-rated childcare and early learning in action – I love that, through Georgia Pre-K Week, others get to do the same. The staff is consistently welcoming and friendly, the Pre-K teachers are high-skilled and well-trained, and the students are engaging in an age-appropriate curriculum which best prepares them for Kindergarten.
I have been so proud to see Georgia set itself apart as a leader in providing Pre-K to 4-year-olds. With continued investment and access to quality early care and learning for ALL of our youngest learners, no matter their background, we can ensure our children are equipped with the tools they need in early years and well beyond.
Participate in Pre-K Week: October 7-11, 2019
For more information, helpful tools, and free resources on Georgia Pre-K Week, please visit www.gaprekweek.com.
If you are a Pre-K center, and would like to register to participate in Pre-K Week and receive free tools and resources, please register here.
If you are an organization or community leader and would like to be involved, please email mramos@georgiavoices.org