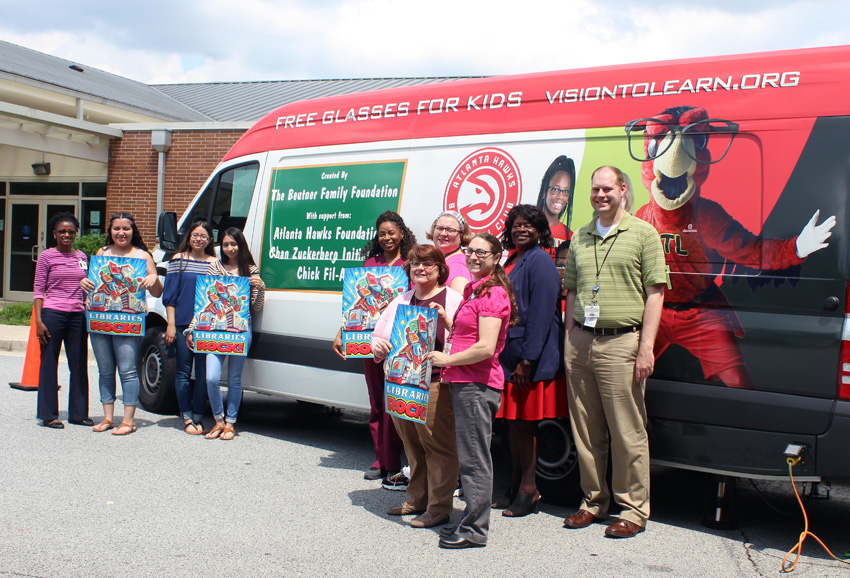 "I can finally see."
Those words spoken by Levi, one of the first young children to receive free eyeglasses from Vision To Learn (VTL) through mobile eye clinic visits at Cobb County Public Libraries, are a powerful message for underscoring the impact of our engagement with Learn4Life.
Cobb Librarian Stacy Hill gave Levi his eyeglasses last summer after the first visit by the national non-profit in Cobb County.
"This program is amazing!" Stacy wrote to share Levi's story of impact about VTL. "Not only are libraries opening the minds of children but literally today I got to help open a child's eyes."
Through VTL and other charities involved with the vision care issue, families discover how school performance and behavioral issues of children are positively addressed by new glasses. Words on the paper come into view. Colorful spots in the sky turn into leaves on trees. A loved one's face is now easy to recognize across the room.
Cobb Librarian Dedra Roman is a lead organizer for VTL visits. The impact of the program is heartfelt by families, she says.
"The reaction has been amazing. They've been overjoyed," she told the Marietta Daily Journal in Kids get free eye exams, glasses from local partnership. "They've been hugging us staff members thinking (we did it). I tell them it's Vision to Learn, it's the Atlanta Hawks (a major sponsor), it's all these organizations, it's not us. They come in very thankful about the program. I've seen some emotional parents."
VTL at Cobb libraries resulted in 136 children receiving free eyeglasses. Still, about 20 percent of the 50,000 Cobb County elementary school children would fail a vision screening and about 8,000 will need glasses. Thankfully, additional VTL visits are scheduled for upcoming school breaks.
The milestone of 250 children receiving free glasses through VTL at Cobb libraries is within reach.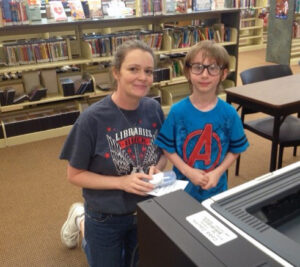 The Atlanta area Vision To Learn program was launched in August 2017 with one mobile clinic. Most of the children receive the free vision screenings, eye exams and glasses at public schools across the region.
Cobb libraries have in recent years hosted area Lions Clubs volunteers staging vision screening events for children and adults. The Lions events and our communications with local Lions members involved with the Georgia Lighthouse Foundation increased Cobb librarians' awareness of the vision care challenge.
Across metro Atlanta, public librarians and other library workers serve in support of the educational ecosystem.
• Thousands of babies and toddlers attend story time programs, craft programs and other activities at metro public libraries.
• Collaboration between Cobb Libraries and public schools resulted in the development of Library PASS (Public Library Access for Student Success), a program that gives more than 120,000 students access to the Cobb libraries.
• Cobb libraries engage families with the 1000 Books B4 Kindergarten early literacy initiative.
• Workforce development programs offered by Cobb libraries include Girls Who Code, a weekly program featuring tech professionals joining tweens and teens in developing code projects; programs on robotics, 3D printing, and Virtual Reality.
As we meet with the leaders and volunteers of the Lions and the Lighthouse Foundation, school leaders, Cobb school social workers, and research the vision care issue overall, we are aware of the complexities of the challenge. Our experience with organizations addressing vision increases our hope the gap in vision care will significantly narrow through collaboration.
The growth of Vision To Learn to 13 states since its launch in 2012 indicates the philanthropic case for VTL is strong. Generous donors are expanding VTL to target the 2 million U.S. children in need of glasses.
Public libraries play a role in raising important issues to diverse audiences across the community.
The American Library Association recently released a video, Advocacy Storytelling 101: Getting Your Library Story in Local News, which features the Marietta Daily Journal article on VTL at the South Cobb library.
Marietta City Schools Superintendent Grant Rivera spoke in the ALA video interview about how Vision To Learn at Cobb libraries elevates public policy questions about vision screening requirements for children and other key issues in early education.
"There are so many stories," Rivera said in the video interview. "We've got to make sure the decision makers and those people involved in impacting policy hear those stories in our libraries."
Vision To Learn is a story of impact. The gap of vision care and its impact on early literacy is a surmountable community challenge.