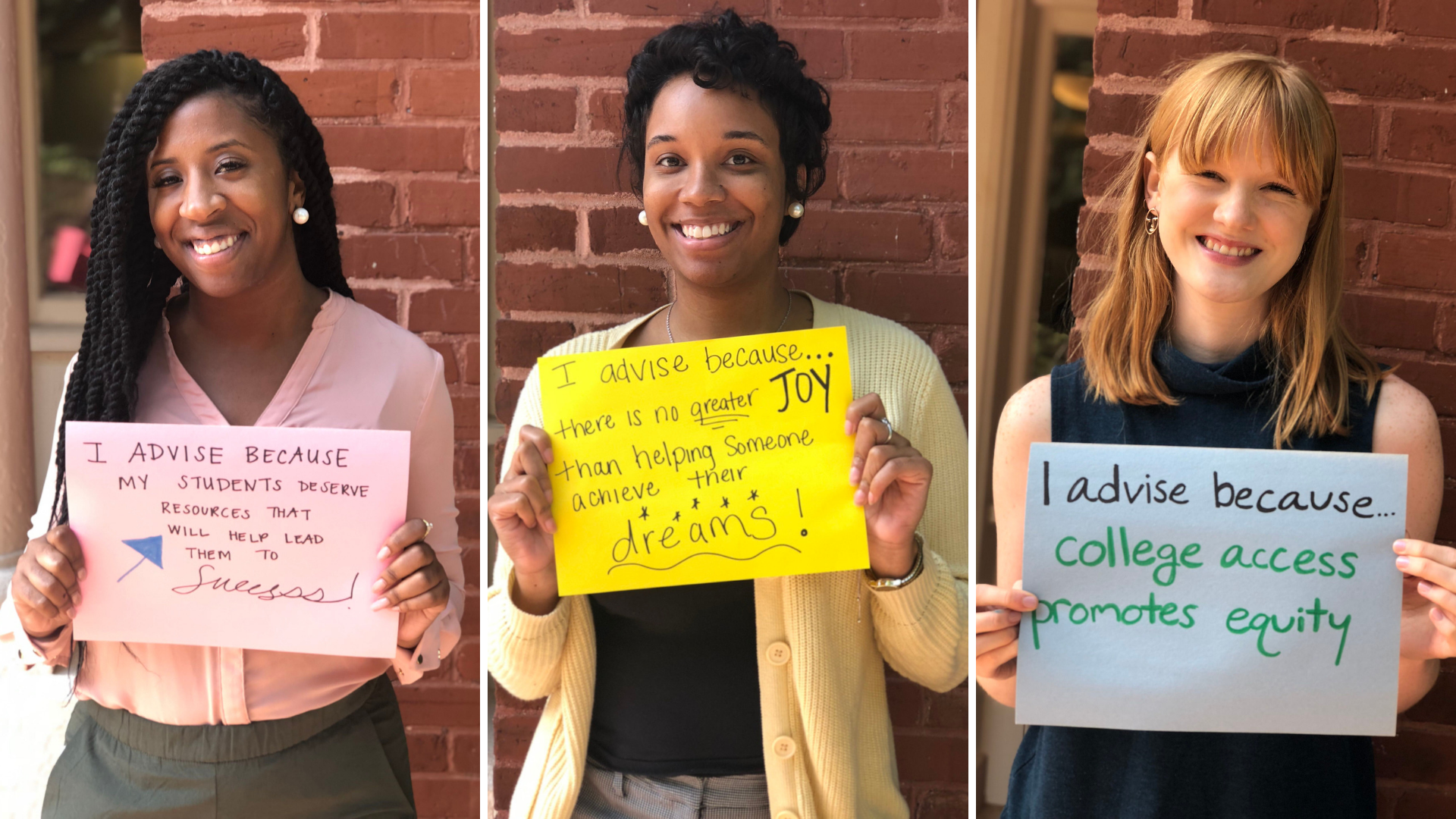 "Without my college adviser, I don't think I'd be going to college. I was really unmotivated before. Ms. Reese has inspired me."
The College Advising Corps (CAC) works to increase the number of low-income, first-generation college, and underrepresented students who enter and complete higher education. CAC programs accomplish this by placing well-trained recent college graduates in high schools to work as full-time college advisers. In 2019 there are two university partners in Georgia: the University of Georgia's Institute of Higher Education, which is celebrating ten years of college advising service, and Georgia State University, which launched its CAC program in 2017.
CAC adviser responsibilities are based on key performance indicators of increased college enrollment. This week, our advisers are busy planning FAFSA workshops for families, coordinating campus visits, registering students for the SAT, and myriad other actions related to supporting students as they navigate the path to college. Advisers also regularly track and analyze data to measure impact and strategically plan initiatives in the following areas:
• campus visits
• college fairs/college representative visits
• SAT/ACT registration
• college workshops
• college application submission
• FAFSA completion
• scholarship dollars awarded
• and parent engagement.
Two unique aspects of the College Advising Corps are our focus on one-on-one meetings and our near-peer advising model. As the director of the UGA College Advising Corps, I've seen first-hand the impact of these components on students' post secondary aspirations. Last semester, UGA College Advising Corps advisers met with 91 percent of seniors at our partner high schools, holding 8,237 one-on-one meetings with students. Each of those meetings was a unique opportunity to engage in honest conversation about the student's aspirations and challenges to pursuing higher education. As near peer role models, advisers are close in age and background to the students they serve. Seeing themselves in their advisers, students gain confidence in their own ability to obtain a post secondary degree.
CAC college advisers not only offer students information, but also inspiration and motivation. It's a powerful combination that has proven successful in promoting a college-going culture in high schools and increasing post-secondary enrollment.
To learn more about the Georgia College Advising Corps at UGA's Institute of Higher Education, please visit our website or contact our program director at jessica.robinson@uga.edu.